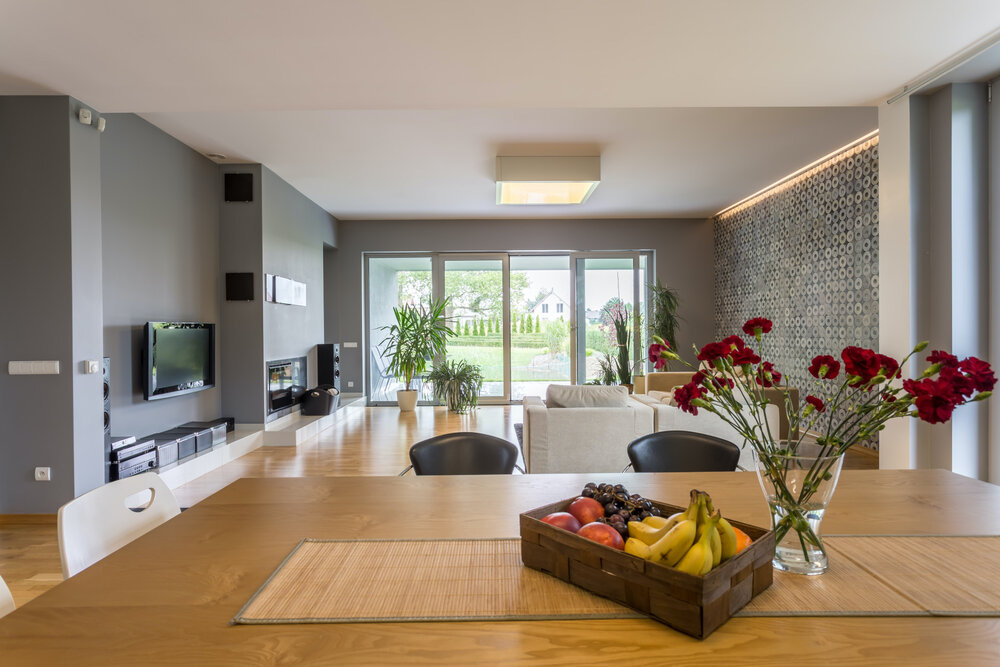 6 Reasons Homeowners Love Open Floor Plans
Most people have a shared vision about what makes a space ideal. Studies show that we prefer large open rooms with natural light and a modern design. But more importantly, these factors can encourage positive traits like happiness, agreeableness, and extraversion!
If your home doesn't have a space like this, an open floor plan could be the solution. The many benefits of open floor plans will have you knocking down walls in no time!
1. Efficiency
People tend to think that bigger spaces aren't energy efficient. But airflow actually improves when there are fewer barriers in an area. That means less heating in the winter and less air conditioning in the summer.
Added natural sunlight can also cut down on your energy bills. Large, sunny windows can provide free heat in an open room during the colder months. And blackout blinds can reduce this natural warmth in the summer.
2. Flow
Opening up your space creates a better flow, making daily life more manageable. Parents can keep an eye on their kids while working, cooking, and doing housework. This open flow can also facilitate more family time, even if you're doing different activities.
A good flow is also ideal for entertaining guests. It can make your central living area appear more dramatic while also keeping it functional. Guests can enjoy conversation in the living room while others congregate in the kitchen or dining room.
3. Light
Lighting is one of the most crucial aspects of your home. Research shows that homes that don't get enough daylight can impact the homeowners':
Sleep cycles
Mental health
Physical wellbeing
Safety
Open floor plans are ideal spaces for better natural light. Without extra barriers or walls, daylight can extend further throughout the home. This benefit is especially vital if your rooms have smaller windows.
4. Space
Removing walls is the best way to create more usable space. Multiple boxy rooms create an impression that your home is smaller than it is. An open floor mimics the effect of additional space through construction.
Our team of remodeling experts can help you decide on floor plan options. You might not need an entire home overhaul to get the right effect. Sometimes, creating an open floor plan is as easy as opening up the space between your living room and kitchen.
5. Value
There are many types of floor plans, but open-concept designs contribute the most value to your home. Statistics show that an open plan increases the value of your home by 7.4%! Keep this in mind if you're considering selling your house in the future.
Buyers often look for homes with a good flow, tons of usable space, and lots of light. Open plans are the best way to check all these boxes and appeal to potential buyers!
6. Modernity
The pre-World War II residential floor plan featured a long hallway with small rooms. Preferences began to change in the 1950s, with homeowners looking for more space as families grew and entertaining at home became more popular.
Our modern design preferences stem from this huge shift. And current trends like Scandinavian and Midcentury Modern work perfectly with this layout. An open floor plan can push you into the modern era if your home feels dated.
Make Your Open Floor Plans Dream Come True
Open floor plans offer many benefits, including better light, more space, and a modern style. Regardless of the current state of your home, an open floor plan is definitely attainable!
And Fischer Restoration can help you achieve this dream. We're your renovation and remodeling experts in the Greater Seattle area. Contact us today, and we'll get started on your new open space.