Do you have a water damage emergency in Seattle? Call now: 206-633-2065
Fischer is available 24/7 to respond quickly to your emergency.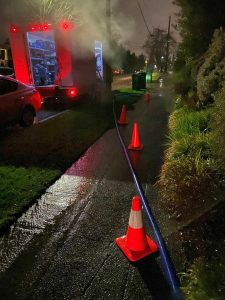 Emergency water damage is typically due to either a weather event or plumbing-related issue. This could be anything from a severe rainstorm that caused water to enter a dwelling, or a tub or shower overflowing, to a water heater, fish tank or water cooler leaking. In the Seattle area, high winds sometimes drive sea water over a sea wall into a rental property.  It can also go hand in hand with fire damage. Often, overhead sprinklers come on as a result of the smoke and flames.
When a water and/or fire damage emergency occurs, you want a repair and restoration professional at your house as soon as possible. At Fischer Restoration, we're available 24/7 for emergency services in Seattle. Our IICRC-certified technicians typically arrive within 60 to 90 minutes of being contacted. We'll be there to lend a helping hand and informed assessment as soon as we safely can.
Fischer's trucks are fully stocked at all times.  Even in the middle of the night, we will have everything we need to get right to work.