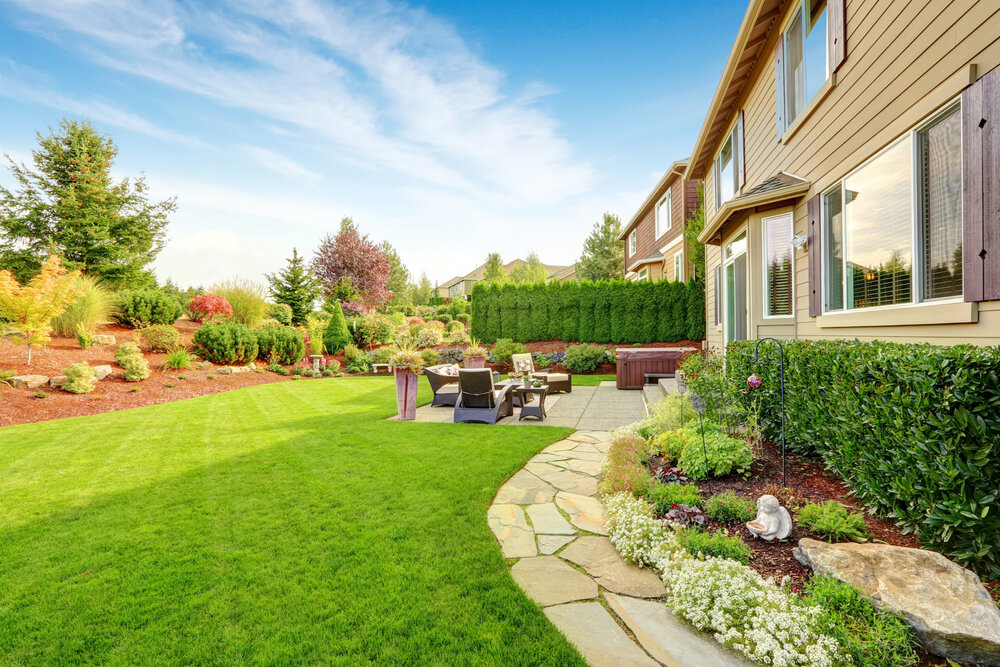 4 Must-Have Backyard Design Trends in 2022
We've fallen in love with our outdoor spaces! According to one survey, 90% of Americans now value their backyards more than ever. So much so that almost everyone has tried to spruce up their exterior areas.
With summer around the corner, a backyard remodel is the perfect way to kick off the season! Get inspired with these five backyard design trends guaranteed to make your summer unforgettable.
1. Livable Spaces
Livable spaces are one of the biggest trends in outdoor living we've seen over the past few years. Homeowners across the country have slowly been merging their indoor and outdoor areas. In 2021, outdoor kitchens took over the scene, accounting for up to 40% of backyard remodels.
Outdoor kitchens sound fancy, but they can be built to suit your space and budget. Consider adding these patio features:
Grill or cooktop
Brick pizza oven
Outdoor fridge
Stainless steel sink
Portable bar cart
If an outdoor kitchen is your dream, keep it safe by using a remodeling service!
Another trend we've seen exploding this season is the outdoor living room, featuring:
Outdoor TVs
All-season furniture made from natural materials
Layered outdoor rugs
Backyard fireplace or firepits
It's taking indoor-outdoor living to a new level, and we're big fans! A great addition would be a small work-from-home space for remote employees. Imagine doing your 9-to-5 from the serenity of your outdoor living room.
2. Vertical Gardens
Outdoor design trends come and go, but gardens are always a sure thing. This season, vertical gardens have emerged as one of the hottest trends. Vertical gardens are perfect for small spaces, but they're also a great way to build a natural privacy screen.
Combine this trend with another hot style for 2022 – mesh furniture. Head to your local home and garden center to pick up a mesh screen (look for extra-wide mesh). You can lean it directly against your fence or call a general contractor to install it securely.
Place trailing plants like cucumbers, ivy, and vines at the base. You'll have to help them make their way upwards as they grow using garden clips. You can also opt to attach small wooden planters to the screen for daintier flowers.
3. Reuse and Recycle
Sustainability is at the forefront for backyard designers this season. Take a cue from the professionals and make green choices whenever possible. Skip the generic stuff and consider using:
Reclaimed wood for construction
Thrift finds for outdoor decor
Eco-friendly paint and building products
All-season and native to the area plants
Chemical-free pesticides
Solar lights
Try incorporating natural materials whenever possible. Bamboo, rattan, wicker, and recycled elements make your space feel like a wild oasis. For flooring, stick with natural stone or brick and avoid chemically-treated wood.
4. Weather-Proof Living
These ideas sound wonderful, but what about rain and snow? Well, weather-proof living is circumventing this issue! Some all-season backyard design ideas include:
Firepits
Hanging or freestanding heat lamps
Canopies, awnings, and movable walls
Pergolas
Patio roofs
While we don't recommend al fresco dining in a blizzard, these ideas can help you enjoy your backyard in less than ideal conditions. As long as you have a heat source and overhead protection, you can enjoy your backyard in most seasons!
Ready for a Backyard Design Remodel?
Backyard design often gets put on the back burner as homeowners focus on the indoors. But your outdoor space can be multi-functional, usable, and beautiful with a few upgrades! Take inspiration from these trends and create the oasis of your dreams.
Ready to build a backyard paradise in time for summer? We're ready to help! Contact Fischer Restoration for your remodeling, plumbing, and electrical needs.